IZiel Healthcare is one of the select group of companies that offers a range of services from Concept Engineering, Product Development, Process Engineering, Validation, Risk Management to Contract Manufacturing for Med-Device companies.
Our Statistical Data Driven Approach ensures increased productivity with minimum wastage and processes that are FDA Compliant. Strong Domain Knowledge, Technical Competency and Complete Focus on Quality & Safety differentiate us in providing fast and cost effective end-to-end solutions across a variety of Class I, II and III devices.
Along with our Partners in USA, we work on various Remediation Projects for large Medical Device Companies. Our Mechanical Expertise along with the Medical Knowledge enable us to validate processes efficiently, understand compliance system gaps between current and FDA expected requirements and reverse shortcomings that are causing your processes and systems to function below standard.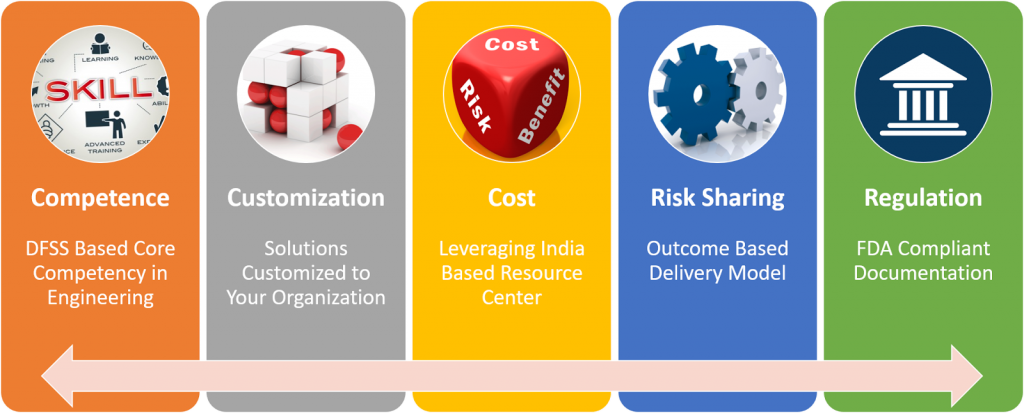 IZiel Team is committed to work with our customers in converting their product ideas to reality in shortest possible time with unique differentiation. We believe in your ideas and work together to build outcomes that are FDA Compliant.
Our Partners are US Based Organizations specialized in the fields of Remediation, Quality Systems, Regulatory Affairs and Contract Manufacturing. We work jointly to provide cost & time benefit solutions to large medical device companies across the globe.
Along with Medical Engineering Consultants, we helps companies through tough times by providing the expertise, knowledge and competence required to validate potentially hundreds of checkpoints for each individual process. That creates a clearer roadmap for your future based on driving operational excellence and continuous improvement through daily metrics, tools and systems applied to input, output, costs and times.
Handling FDA 510 (k) applications for medical devices is where Medical Engineering Consultants excels. You can now easily know what you need, when you need it, what the current compliance requirements or regulations are, and whether you're on track to cost-effectively meet them by your deadline.
We have also joined hands with the leading contract manufacturer with ISO certified and FDA registered sites in the US, Costa Rica and India. With strategic partnership with global manufacturing houses, we can offer best in class production capability at unmatched prices.